Whiskey Jack Presents Stories & Songs of Stompin' Tom
September 15, 2019 @ 2:00 pm
Duncan Fremlin has generously offered to perform a benefit concert for the Wingham Town Hall Theatre fund!
Tickets are $35 and can be purchased at Annette's Treasure Galore (across from the Post Office) or Maitland Family Dental or online at https://www.ticketscene.ca/events/25152
Stories and Songs of Stompin' Tom is an all-star musical tribute to Canadian icon Stompin' Tom Connors. In this extraordinary concert event Tom's music will be performed by his touring band Whiskey Jack.  Whiskey Jack performed as Stompin' Tom's all-star backup band for many years.
Band leader and banjo player/raconteur Duncan Fremlin toured with Tom in 1990 and continued to perform with this great Canadian troubadour until his death in 2013.  Joining Fremlin in the show is Juno nominee and multi-instrumentalist, Douglas John Cameron; five time Canadian Bluegrass fiddle sensation, Randy Morrison; drummer Bill Caruthers and Tom's bass player, Eric Jackson.
For over 40 years, Whiskey Jack has been performing their unique brand of Canadian country, roots and folk music to audiences around the world.  In the 1980s they were featured as regulars on the CBC's Tommy Hunter Show.  During those years, each Friday night, Stompin' Tom would tune in and watch their segment, The Ol' Back Porch.  It was then that Tom became an avid Whiskey Jack fan.  Along with 2 million of his fellow Canadians, Tom enjoyed the band's humour, soaring vocals and fantastic musicianship.
When Stompin' Tom returned to the recording studio in 1993 he summoned  Duncan and Whiskey Jack to be his studio band for his acclaimed album, "Dr. Stompin' Tom…Eh?" Whiskey Jack also performed in concert as Tom's backing band on cross country tours which included a Canada Day performance on Parliament Hill in front of 500,000 people.
In 2019 Whiskey Jack continues to tour across Canada. Their show is a memorable and spectacular evening of entertainment for fans of Stompin' Tom. Don't miss Stories and Songs of Stompin' Tom featuring Whiskey Jack!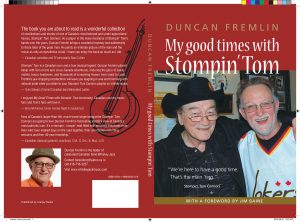 Tickets are $35 and can be purchased at Annette's Treasure Galore (across from the Post Office) or Maitland Family Dental or online at https://www.ticketscene.ca/events/25152