The AC/DC Show – Canada!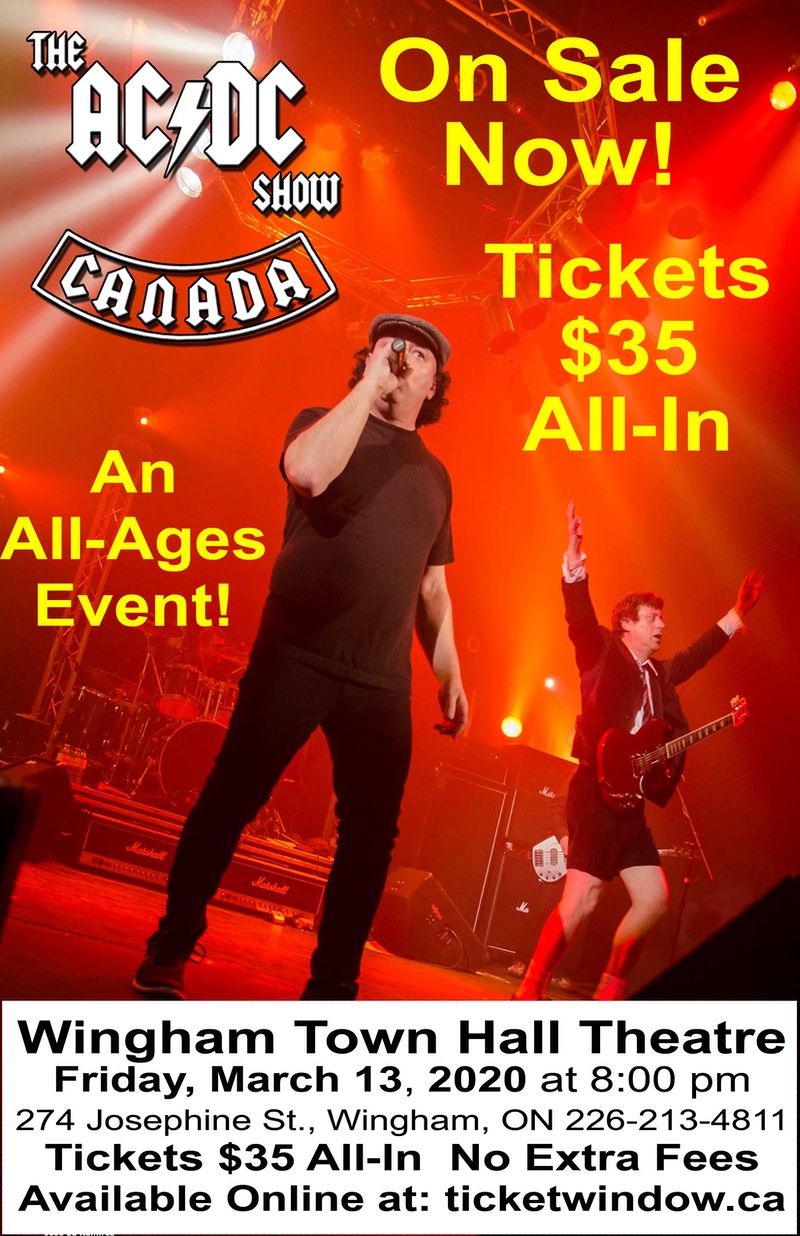 The AC/DC Show – Canada! 
The Look, The Sound, The Hits of AC/DC – The all-time biggest selling band in the history of rock music!  Spanning both the Brian Johnson and Bon Scott eras, this show will take you on a rock and roll ride through AC/DC's incredible history of hits.   AC/DC has often been referred to as "The Thunder from Down Under" and that really says it all!  And this show delivers all of their hits from "Let There Be Rock" to "Back in Black" to "Thunderstruck" and everything in between!  
Wingham Town Hall Theatre
Friday, March 13, 2020   Doors 7:30 p.m.  Showtime 8:00 p.m.
Tickets $35    Available Online at: ticketwindow.ca
RESERVED SEATING SECTIONS and GENERAL ADMISSION SEATING SECTIONS are available for your choice and convenience for this show, and all tickets are the same $35 price, with no extra fees of charges.
RESERVED SEATING TICKETS:  http://tickets.ticketwindow.ca/TheACDCShow-Canada
GENERAL ADMISSION SECTION SEATING TICKETS: (Cash Payments only):
CHRISTINE'S CLOTHES CLOSET, 208 Josephine St., Wingham (Ph. 519-357-1051) &
ERNIE KING MUSIC, 37 West St., Goderich (519-524-4689)

 

 
NOTE:  Reserved Seating Tickets are only available when you buy online .  ALL tickets are the same $35 price with no extra fees whether you buy Reserved Seats online or General Admission Section Seats at Christine's and Ernie King's.  But online you get to pick where you want to sit and makes things much simpler for you when you get to the show!  And for your convenience, if you want to buy online but don't have a printer to print your tickets then TicketWindow can mail your tickets to you when you complete your online purchase.